Careers
The designated lead for Careers and CEIAG (Careers Education, Information, Advice and Guidance) at Blacon High School is one of the Assistant Headteachers, Miss R. Thomas. She will also work with a wider network of staff and external agencies to fulfil the school aims below. The named governor for Careers and CEIAG is Mr P. Wilks.
Parents/Carers, pupils, staff and employers can read about our CEIAG programme on this page, links below can be accessed or the designated lead can be contacted at school by sending an email to rthomas@blaconhigh.cheshire.sch.uk or by phone on 01244 371 475.
Staff can access Careers across the Curriculum resources for their subject in the Staff Drive Careers folder.
Aims
We aim to raise aspirations, challenge stereotypes and encourage students to consider a wide range of careers. Through careers education and guidance it is hoped that students will be encouraged to make the most of their talents and to go on to jobs or courses which suit their personality, interests, skills and abilities. We aim to ensure our students make informed key choices that which will affect their future and also to help them become aware of their strengths, areas for development and interests in relation to the world of work.
The new Careers Strategy and statutory guidance
The government's new Careers Strategy was published in December 2017 and was followed in January 2018 by statutory guidance for governing bodies, school leaders and school staff. The statutory guidance is as below: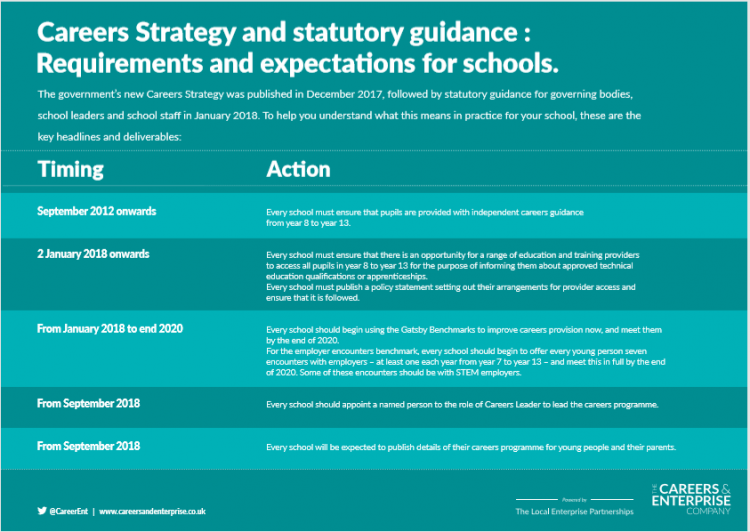 The Gatsby benchmarks mentioned above are a framework of 8 guidelines about what makes the best careers provision in schools and colleges. Blacon High School's Careers Strategy is built around them.
The benchmarks are-
A stable careers programme.
Learning from career and labour market information.
Addressing the needs of each pupil.
Linking curriculum learning to careers.
Encounters with employers and employees.
Experiences of workplaces.
Encounters with further and higher education.
Personal guidance.
The school's success against the Gatsby benchmarks is measured using a tool called the Careers Compass Tool and the results of this informs the school CEIAG action plan.
CEIAG Implementation and Impact.
We also intend our students to:
Develop a broad understanding of the world of work with an ability to respond to changing opportunities.
Develop independent research skills so that they can make good use of information and guidance.
Develop and use their self-knowledge and awareness of their strengths, skills and personality, when thinking about and making choices.
Develop the skills they need to review achievements, plan future actions, make decisions, present themselves well and cope with change and transition.
Commitments
We are committed to:
The provision of resources and advice to enable students to understand and develop career choices and to ensure that careers education is seen as part of the overall curriculum and learning framework for all year groups.
Encouraging students to achieve and to be ambitious.
Further involving students, parents and carers in the further development of careers work.
As well as having one-to-one careers interviews in school in Year 11, students across all year groups will be working with a number of external providers to ensure they have the broadest experiences possible in order for them to make informed and purposeful decisions about their next steps after their GCSEs.
To assist us with reaching success against the Gatsby benchmarks, Blacon High School currently work with;
Higher Horizons
Higher Horizons is a collaborative network of universities and colleges offering outreach activities to schools. www.higherhorizons.co.uk
We also liaise on a regular basis with our local colleges, 6th forms and training providers; the majority of our students choose from these providers for their next steps. Please see the link below for our Destination Data from 2016 - 2021
Chester University Widening Participation Team
This team works closely with secondary schools to help raise students' aspirations and discuss exciting future opportunities. We deliver bespoke events, which are carefully designed according to your schools and colleges requirements. www.chester.ac.uk/outreach/what-we-do/secondary-school-activities
All About STEM/ASK Apprenticeships
The programme is designed to give schools, colleges and other educational establishments across England free support to develop and transform how your students think about apprenticeships. www.amazingapprenticeships.com/about-ask
Students are also encouraged to create a profile on the online learning platform START. www.startprofile.com
Start is a free and comprehensive digital platform, offering schools and colleges a single starting point to help simplify and improve careers guidance in schools.
By following Start's structured and progressive activities, the platform caters for all students helping them to make more informed decisions about future study and career options at the right time and in good time.
Overview of Provision
Year 11 Careers
Year 11 Careers
Year 11 will have their Careers lessons as part of the PSHE programme twice a fortnight.
They will follow this scheme of work for Careers
Life Beyond School
Time Management.
LGBT Rights across the world.
Exam stress and relaxation.
Insta Life Vs Real Life.
CV Writing.
Writing a Personal Statement.
They will also have once tutor session a fortnight based around Careers and will complete some of the tasks from this scheme of work. There is some overlap from the PSHE scheme of work so additional resources will be created.
Post 16 Options.
Planning for the future.
Personal Branding.
Writing a Personal Statement.
CV Writing.
Making applications post 16.
Interview Preparation.
Year 11 will have the opportunity to attend assemblies with our local Post – 16 providers; Coleg Cambria, Deeside 6th, Cheshire College South and West, LLS Sports, Christleton 6th Form, Chester Catholic High 6th Form and Queen's Park High 6th Form.
They will also have the opportunity to visit some of these providers to find out more about them.
All Year 11 students will have a 1:1 Careers Guidance interview with Miss Thomas as part of their Careers Programme and during this time they will be free to discuss all aspects of their next steps after Blacon High School.
Year 10 Careers
Year 10 Careers
Year 10 will have their Careers lessons as part of the PSHE programme twice a fortnight.
They will follow this scheme of work for Careers
Life Beyond School
Instagram Generation.
Targeted advertising and your data.
Marriage what is it.
Rights and responsibilities.
Consumer Rights.
Employment Rights.
Exploring a pay check.
Year 10 will all have the opportunity in the Summer 2 term to visit Cheshire College South and West for 2 days to take part in taster sessions of their choosing to experience life at college and what happens in those courses they may be interested in that are offered at the College.
Year 10 will also take part in an assembly from Ask Apprenticeships to provide them will all the information they may require about Apprenticeships.
Year 9 Careers
Year 9 Careers
Year 9 will have their Careers lessons as part of the PSHE programme twice a fortnight.
They will follow this scheme of work for Careers
Life Beyond School
From failure to success
First aid lesson
Importance of happiness
What is anger
Saving and managing money
Employment and Financial management
Social media and online stress
Year 9 students will take part in a 'Learn to Earn' day in early Spring 1 half term and this is a whole day with external providers where they will take part in sessions around 'Dream Lifestyle and Budgeting', 'what success means to me', Jobs directory searches, the cost of living and also 'Steps to Success'.
Year 8 Careers
Year 8 Careers
Year 8 will have their Careers lessons as part of the PSHE programme once a fortnight.
They will follow this scheme of work for Careers
Life Beyond School
Employability skills practice
Proud to be me & Careers
Career interests and job ideas
Self esteem and the Media
Labour market information
Exploring careers
Year 7 Careers
Year 7 Careers
Year 7 will have their Careers lessons as part of the PSHE programme once a fortnight.
They will follow this scheme of work for Careers
Life Beyond School
Intro to PSHE
Getting to know people
What is community
Careers and your future
Sleep and relaxation
Financial education
Transition points and your life
These websites provide additional support when considering possible future study options and careers
www.successatschool.org – careers information
www.nationalcareersservice.direct.gov.uk – select job profiles
www.prospects.ac.uk select options with my subject (you will need to create a profile and register to use this but it is free to do so)
LMI Links
There are many career websites available that contain LMI, here are a selection:
Labour Market Information
www.lmiforall.org.uk/widget – use the 'Careerometer widget' to find out useful LMI (Labour Market Information) regarding jobs you may be interested in and also average salaries and the growth of that job sector. Below also is a link to LMI per region from the National Careers Service.
Cheshire and Warrington LMI Start
Cheshire and Warrington LEP Opportunities website
This portal is a pilot until 31st March 2021. It is updated with live jobs in the region every 30 minutes. Everyone can use the site to find out about jobs in local growth sectors and how to retrain or upskill.
Cheshire and Warrington LEP Opportunities - https://www.candwopportunities.co.uk/
National LMI icould
A good website for young people and their family to explore. Take the Buzz Quiz, find out about a huge variety of jobs and watch inspirational career story videos.
National LMI icould - https://icould.com/
First Careers
This website is great for younger students to explore how their favourite subjects can lead to a range of careers and discover work experience opportunities with well-known employers.
First Careers - https://www.firstcareers.co.uk/
Prospects
All students can browse one of the most comprehensive lists of job profiles giving information about the role, qualifications, salary and the skills required. There are also tips for gaining work experience in each career.
Prospects - https://www.prospects.ac.uk/job-profiles
UCAS
This is more than just a universities website. Young people and their families can find out about different careers, apprenticeships, going to college as well as university.
UCAS - https://www.ucas.com/
Year 11 Career Lessons
Some of the materials used in these powerpoint lessons are from Barclay's Life Skills.
Support Documents for Applications
This information will be reviewed September 2023