Media Studies
Curriculum vision
"If you don't read the newspaper, you're uninformed. If you read the newspaper, you're misinformed." Mark Twain
The Media Studies curriculum fosters a spirit of inquiry in students to engage in an ever changing, globalised world of information. The curriculum allows students to academically critique and comment on culturally significant media products using theoretical approaches and a breadth of media texts they would not usually encounter in their everyday lives. The subject teaches students to become critical thinkers when engaging in the media as both an audience and an academic.
Critical thinking is achieved by:
Actively learning and engaging in challenging media theory, applied to texts of high academic quality with rigour. Students are challenged to recall key theories from a theoretical framework based on audiences, representations, industry and media language and apply these to multiple media texts, both seen and unseen, in an extended academic writing format (Developing mind through challenging theory)
Developing an understanding and awareness of how media representation and language impacts public perception. Students learn to challenge stereotypes and to reflect on how the media industry can influence the way the public think and behave (Developing character through awareness of media representation)
They are given the opportunity to see the media industry in action outside of the classroom, both virtually and through visits, building cultural capital and developing independent and resilient characteristics (Developing body through industry visits)
Media Studies develops the character of students as they explore a broad and open-minded approach to analysing a range of texts across different time periods and a changing social and cultural history of the world in which they are active citizens, instilling in them, a respect for all. This is taught through the array of media: magazines, radio, online and social participatory media, music videos, film industry, newspapers, gaming, television and advertising/marketing.
Students will utilise their learning and become creators of high quality texts of their own, developing their creative voice and preparing them for further study and the world of work thus enabling them to form positive relationships both in school and post-16.
Our curriculum teaches students of the complexities of the dynamic and growing media industry in order to broaden their knowledge of working within it as a legitimate, ambitious and fulfilling career option for the future. This teaches resilience enabling students to independently complete a non – exam assessment in which they must learn to manage their time effectively to reach deadlines.
"Media Studies gives me the skills and knowledge to think critically about the media in a way I never did before." Year 11 student
Curriculum overview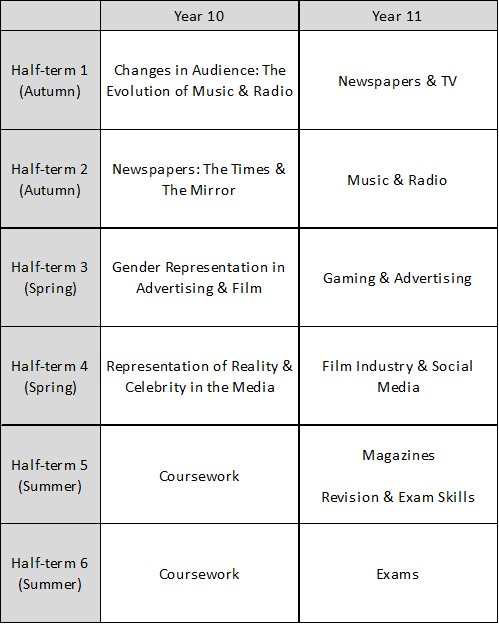 Curriculum accreditation
Key Stage 4 Media Studies students follow the AQA GCSE Media Studies specification.
The full AQA GCSE Media Studies specification can be downloaded at the bottom of this page.
Further learning