Child Development
Curriculum vision
"Children are the world's most valuable resource and its best hope for the future." John F. Kennedy
Our aim is to equip students with specialist knowledge and a secure understanding of how to provide the ideal environment for promoting the development of a human being. They will have the opportunity to look at key factors supporting development, and key roles within the NHS which help to support the health and wellbeing of mothers and their babies. We regularly encourage students to think, reflect and endeavour, with the aim of ensuring they are equipped for further study or employment, and so that they can make a valuable contribution to wider society.
Development is achieved through:
Applying knowledge and demonstrating critical understanding of key concepts, in true to life scenarios and case studies through independent research, interactive and engaging activities and participation in structured discussion and debate. These themes will include: pre-conception health and reproduction; antenatal care and preparation for birth and postnatal care; childcare settings, nutritional needs for young children, stages of play and development (Developing body through participation)
Planning and evaluating the needs of children through classwork and also gain an insight in to a variety of NHS careers, with participation in workshops, delivered by external agencies and/or local businesses (Developing mind through LOtC, experience and evaluation)
Developing and reflecting upon their individual character, with a key focus being placed upon the importance of personal qualities such as patience, understanding and respect (Developing character through reflection)
Students will have a secure understanding of the fundamentals Child Development. We aim to empower students to make positive choices in terms of their own health and wellbeing, but also allow them to learn how to support the wellbeing of younger children to enable all to form positive relationships as they mature.
We want to give pupils the opportunity to build resilience to confidently embark upon further study or employment within the sector, which play such a vital role in supporting the health of the youngest members of our society.
We endeavour to encourage our students to develop their character through the subject and the learning they complete, with the aim to produce confident, enthusiastic, respectful, skilful and responsible young people.
"I really love my Child Development lesson. We have really open discussions and it gives us the chance to express our thoughts and opinions on a range of different topics. I also love how the subject links to loads of different careers such as midwifery, nursing and teaching." Year 11 student
Curriculum overview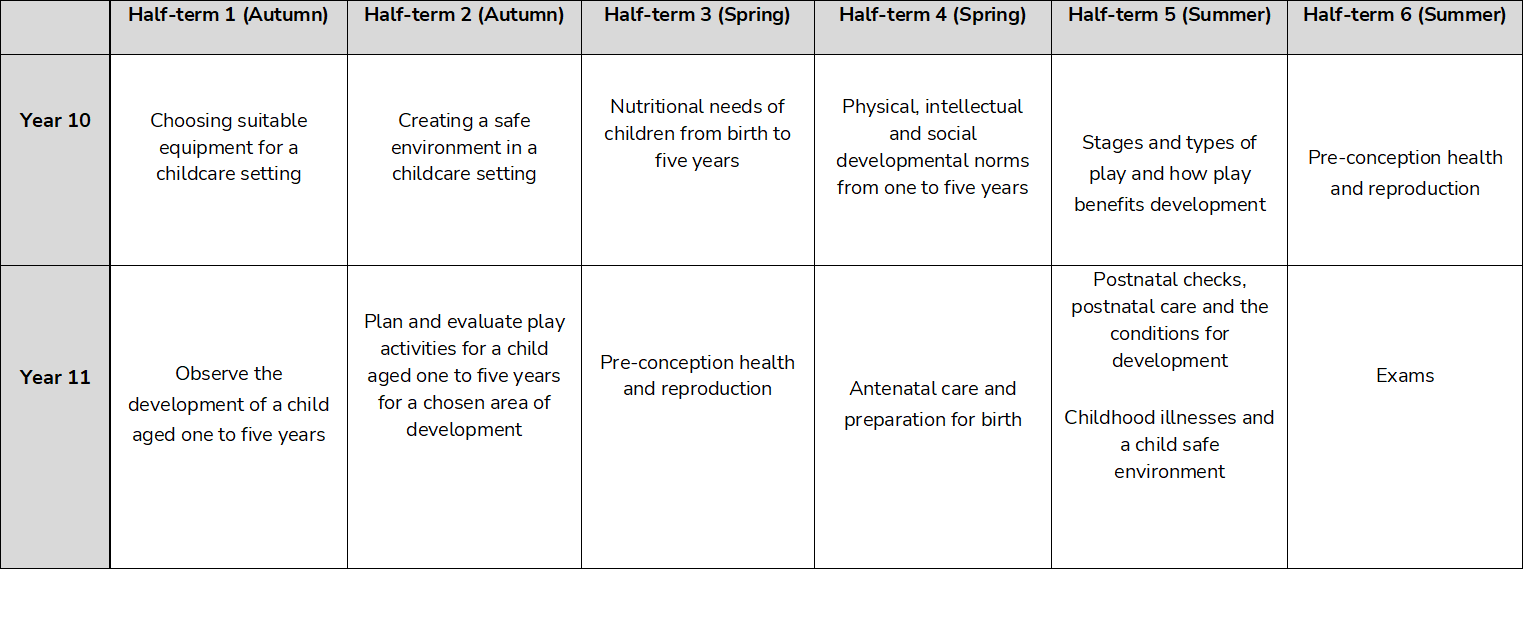 Curriculum accreditation
Key Stage 4 Child Development students follow the OCR Cambridge National Child Development specification.
The full OCR Cambridge National Child Development specification can be downloaded at the bottom of this page.
Careers links