Art
Curriculum vision
'You can't use up creativity. The more you use, the more you have.' - Maya Angelou
We believe studying Art can encourage self-expression and creativity, helping to build confidence as well as a sense of individual identity. We use art to develop pupil's critical thinking and the ability to interpret the world around us. It gives them unique opportunities to express their opinions, thoughts and feelings about some key issues that they can connect to areas of their own lives. Pupils are able to use research, the existing work of artists, and their knowledge of skills and techniques to influence their ability to create personal responses, demonstrating an understanding of practical, theoretical and disciplinary knowledge.
Creativity is achieved through:
Analysing historical and contemporary art from a variety of cultures and backgrounds. Students will record ideas, observations and insights relevant to intentions as work progresses leading to the demonstration of a critical understanding of sources (Developing character through critical understanding)
Refining their work by exploring ideas, selecting and experimenting with appropriate media, materials, techniques and processes to include skills such as: Digital Art, Textiles, Collage, Drawing, Painting, Printing and Photography (Developing body through experimentation)
Presenting a personal and meaningful response that realises intentions and demonstrates understanding of visual language through a variety of themes and concepts
Students develop their creativity, independence and resilience through experimentation with a range of materials and techniques, such as; drawing, painting, collage, mixed media and 3-D. Students become confident in taking risks and learn from experience through experimentation and exploration of a range of materials and techniques.
Students are introduced to a range of traditional, historical and contemporary artists and designers, offering them a broad and balanced understanding of the subject and its influence on culture and society.
Develop critical thinking and understanding through investigative, analytical, experimental, practical, technical and expressive skills. Students research, analyse, record and refine their individual ideas to present a unique personal response.
'I love the way I am able to express my ideas in different ways in Art. I can use my imagination and express myself differently in this subject.' Year 8 student
Curriculum overview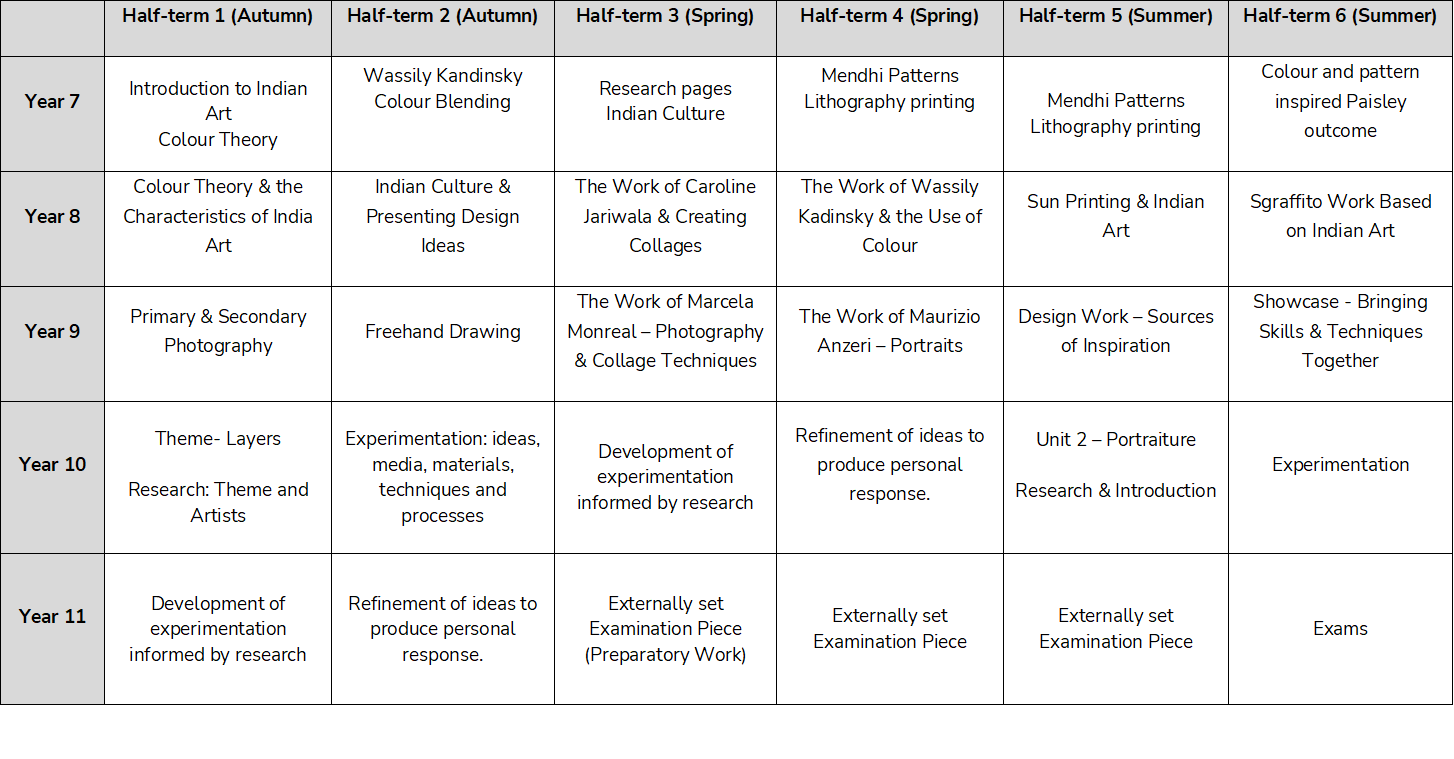 Curriculum accreditation
Key Stage 4 Graphics students follow the AQA GCSE Art and Design specification.
The AQA GCSE Art & Design specification can be found at the bottom of this page.
Further learning
Careers link